About Me
Hi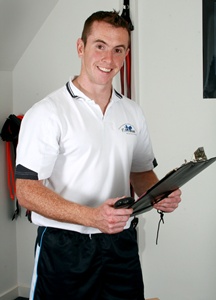 My name is Matt Luxton, here's a little bit about myself, just so you know who it is thats providing you with your programme.
I am currently working with a variety of clientele, providing contempary fat loss training that works and is fun! I love my job!
I graduated from the University of Wales Institute, Cardiff with a BSc (Hons) Degree in Sport & Physical Education. During my time at university I pursued my dream of becoming a personal trainer and fitness coach. I subsequently established Functionally Aware Fitness.
During the summer of 2008, I spent time in Los Angeles, more particularly at the world famous Gold's Gym, Venice beach. I spent a month working with some of the world's best personal trainers, attended conferences in Long beach and Irvine to enhance my knowledge and education. I have since undertaken a mentorship week in Florida with the world famous fitness coach Juan Carlos Santana, whose work has been an inspiration to me and of huge benefit to all of my clients.
I believe that to provide the best possible service to my clients I must not merely be in the Fitness industry; I however see consider myself into fitness and a Professional. I endorse a holistic approach which is based on a full commitment to both training and nutrition. I believe that true a truly successful training programme that provides long lasting physiological and psychological results relies on 100% commitment to training and nutrition.
In order to continuously provide clients with the best possible service, I frequently attends new courses and gains qualifications, enabling me to ensure that every client who gets the best possible service.
Note: 'A little Honesty '
During a Fitness Mentorship to Florida, with JC Santana , JC proposed this to me.
In many aspects of life you can cheat, scrape by, bend the rules and cheat your way to success. In fitness you can't cheat your way to success. Get the work done and you will reap the rewards, cheat and you won't!
Remember this, don't get sold on easy workouts or eat what you want fads!
Work hard and get the results , YOU want!
I wish you every success,
Matt
My Links
Shopping Cart
Start Your Blast Fat Loss TODAY