Browsing all articles in Blastees
I started Matt's 30 day fat loss programme in May. Yet, for many years I wanted to shift the few extra pounds gained since having my two children, but never had the will power or motivation to do so.
I received the hit and miss diet list and thought, I'm never going to be able to stick to this (no coffee, no alcohol, no chocolate) to name just a few. Still I started day one doubtful. To my amazement, I found that I actually enjoyed what I was eating and not missing the fast food normally grabbed when in a rush. After a few days I started to notice the difference, I had so much more energy than normal.
I was expecting to be hungry but with eating healthy snacks in between meals, I was far from hungry.
I received daily e-mails from Matt, which contained the instructions for the exercises of that day (only 20 minutes). There was a video link available to look at, so I knew how to do each particular exercise correctly. His emails gave so much encouragement knowledge and motivation.
After the 30 days, I was so pleased with the results, having lost 9 inches, 7 pounds, and feeling so much healthier.
I have learnt a lot from Matt's knowledge and have since continued with a nutritious diet (with a few exceptions).
His encouragement is second to none and without this I would not have achieved what I wanted.
I would recommend Matt's 30 day fat loss program to anyone who needs a bit of a kick start to a healthier lifestyle, and want to loss a few pounds on the way.
Rachel Scoble
I have always been an active person, playing badminton, running and during the last 12 months also line dancing and working with Matt once a week. In spite of all the exercise, I knew I was over weight.
Last April, I saw Matt advertising the 30 day online fat loss program. I decided to ask him if it really works, because I knew I was not shedding any weight in spite of all my exercise. He assured me, that if I stuck to the program, I would definitely lose some weight. Hence, I decided to go for it – nothing ventured, nothing gained and the money was going to a good cause, even if I did not lose any weight.
I decided I would give it my best shot and stick religiously to the eating and exercise plan. During the first week, I lost 4lbs which really surprised me. By the end of the month I had lost 9lbs. For two of the weeks I was on holiday and I didn't even treat myself to an ice-cream, but I ate lots of nuts and berries instead, which I love!
The only food I ate during the month that I detested, was porridge made with water. I tried very hard to disguise the taste, by adding lots of different berries, nuts and seeds, but somehow it did not work! Anyway, I had made up my mind I would tolerate it for the month, which I did. Needless to say, I now have milk in my porridge, but not so much as I once did. I make it with half milk and half water and I like that.
Once the month was up, I started to re-introduce the foods, in the order given and continued doing the exercises from the plan, hoping to lose more weight. I have lost nearly 1 ½ stone in four and a half months and gone down a trouser size. I have continued eating six times a day and drinking lots of water and green tea. I eat healthily, but I don't restrict myself in what I eat.
Besides feeling great, I have lots of energy. I hope to continue losing more weight during the next few months.
I recommend Matt's Online fat loss program to anyone that wants to lose weight. It definitely works!!
Thanks Matt for all your help.
Vin Marshall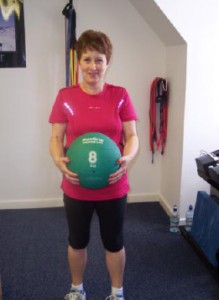 I started training with Matt in March having seen my husband achieve amazing results in terms of fitness and health with Matt. I decided I needed some me time after a family illness. Ringing Matt was difficult as I hadn't done any serious exercise for years other than walk the dog! Indeed I had always considered myself hopeless at sport and had never achieved a reasonable level of fitness previously and was constantly obsessed with my weight and appearance
My embarrassment at turning up to a fitness studio overweight and extremely unfit was obvious to see and I was way out of my comfort zone but Matt has helped me with the utmost professionalism to move forward.
Five months on I can't believe the changes in me. Having followed Matt's nutritional plans which really do work and make you feel better health wise – and worked hard at his fitness sessions twice a week, I am lighter, fitter, and have a far more positive can-do attitude to life. On holiday last week I chose to take advantage of the fitness sessions on offer instead of remaining glued to my sun lounger feeling too fat to join in! My food choices are completely different and far healthier. I can't see the point of slogging away at the gym and then eating rubbish. I am still surprised that this is the new me but I am so pleased I took the courage to ring Matt who has been so motivational and such a good role model!
Note from Matt
Nicky has demonstrated that a dedication to a holistic exercise and well being programme reaps not only staggering short term gains but also a sustainable lifestyle habit. Part of Nicky's' success story thus far includes a 28 day online fat loss programme that I designed specifically to speed up metabolisms and help to clean the body from the inside out.
Whilst we did not take any of the 'before' or 'after' photos, we did take a photo at Nicky's latest fitness assessment. The photo above of Nicky shows her holding an 8 Kg Medicine ball at the FA Fitness Studio. This is just slightly less than the weight that Nicky has lost since her initial fitness assessment.
I am absolutely delighted for Nicky, and I am looking forward to helping her to achieve more great health and fitness related goals and achievements!
Great stuff Nicky!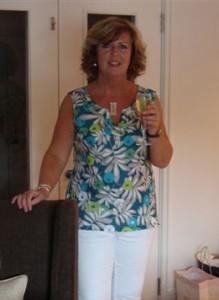 When I started the online exercise & nutrition programme with Matt in May of this year, I remember being very sceptical as to how on earth I was going to fit a daily exercise programme into my busy work schedule
My main reasons for committing to the programme were: -
I turned 50 in April & was aware that I had piled weight around my middle.
Achy joints and lower back problems
Restless sleep & hot flushes
General lack of energy
Postural problems due to bending over a couch for long periods
I was amazed at how easy it was to commit to doing daily exercise, and with the easy to follow instructional videos I soon became competent doing all the exercises. The programme was very easy to follow and I received daily personal E Mails with comprehensive nutritional advice with lots of ideas for breakfast, lunches, evening meals & snacks. The support I received throughout the whole programme was invaluable & I feel was one of the contributory factors in really sticking to the regime.
I was absolutely thrilled that I lost 13lbs in 28 days but more importantly the inch loss, 4 inches off my waist, 2 inches off my hips, 3 inches off my bottom & 1 inch off my thigh. I also feel that the detox at the start of the programme was instrumental as a kick-start to the weight loss, and the support I received was particularly invaluable at this stage. The change in nutrition has led to an increase in energy & an overall sense of well being, and has been a contributory factor in keeping the weight off.
I cannot stress enough how much I enjoyed the entire programme. I noticed a huge improvement in my general health, felt more energized experienced a much better quality of sleep & complete disappearance of the hot flushes.
I would strongly recommend Matt's online programme to anybody & the effort that you put in will be representative of the end results. My only regret is that I hadn't discovered it years ago but it is never too late to start exercising even at 50!!!
Hi Matt,
Dave is now weighing 18 stone so that's a 2st loss. We have continued eating the same foods as we were on the programme still no alcohol or tea or coffee. I have stayed the same. Dave is going to come Wednesday morning.
We found the Blast Programme extremely easy to use, all the information you gave us worked the cook book was really helpful and the recipes were easy to follow. We didn't have much exercise history other than a failed attempt at a gym membership, aerobic classes, weight watchers sessions and the odd attempt to go out running so our fitness levels have greatly improved.
I was apprehensive before starting the programme (and secretly thought I would never stick to it) I was mainly worried about what we were going to eat but once we got into our stride with it it became easy and we both enjoyed it. It just takes a bit of planning and getting up a little earlier but the results were well worth the "5.30″am alarm call. We found the nutrition practical and even made our own recipes for chicken and lentil stew and butternut squash and peanut butter soup.
During the programme we both felt better in ourselves and much healthier. I felt eating natural foods made me feel more natural in myself. The results we achieved were amazing I lost half a stone and love the way my body is looking and Dave lost one and a half stone but has since lost another half a stone by continuing on the programme.
We want to thank you very much it has been the best thing we have ever done and only thing that has ever worked for us looking back its so simple really. You have to be commited but it is worth it. So many people have commented how well we both look. Matt Luxton you're on fire!
Lisa and Dave
My Links
Shopping Cart
Start Your Blast Fat Loss TODAY